Best Tactical Waterproof Pants [Buying Guide]
When undertaking a tactical mission outdoors, no matter the goal, you're going to want to make sure you have practical, high-quality waterproof tactical pants.

Tactical Waterproof pants will not only protect your legs from wet weather and the occasional gamble through streams and standing water, but they also help to keep your legs scratch-free and nice and warm.

When it comes to practical and functional apparel, there is no alternative to tactical pants. Waterproof tactical pants with a quick-drying construction keep you from being soaked and also help to keep the fabric sturdy by preventing water damage.
These waterproof pants are also suitable for climbing, hunting, fishing, biking, camping, or hiking.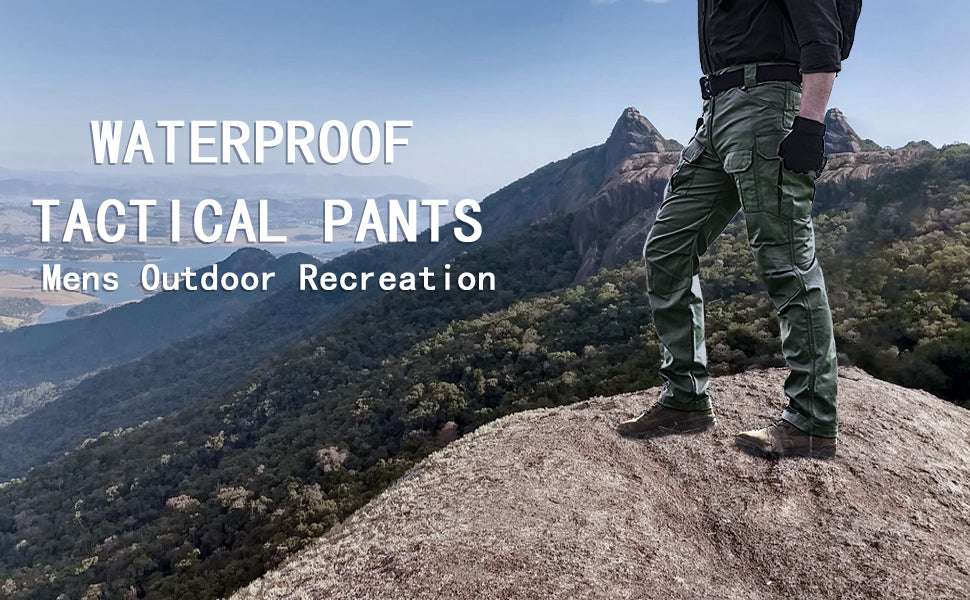 Things To Consider With Tactical Waterproof Pants
Before you buy a pair of protective pants for your next outdoor misson, consider the following:
To keep your legs protected in the wild, your pants need to offer a reasonable level of resistance to water. Whether you are walking in the rain or hiking through streams and standing water, they will need to repel enough water to keep your legs dry.

The waterproofing found in outdoor tactical pants can come in the form of a coating or a membrane, and there are varying levels of protection that they can offer you. Membranes are considered to be highly water-resistant while still allowing your skin to breathe, and when paired with sealed seams, it is highly unlikely that any water will make its way onto your skin.
The key to a comfortable pair of waterproof tactical pants is a successful combination of water resistance on the outside and a soft, warm, and moisture-wicking lining on the inside.

The design of your waterproof pants will also play a big part in how comfortable they are. Look for elasticated waists with belt loops for a customized fit, as pants that feel too tight or need constant adjustments will slow you down and become annoying after a while.
Most waterproof trousers come with an elasticated waist that is easy to pull on over regular clothing or a thermal base layer. While these are comfortable and practical and designed to fit wearers of all sizes, they can feel bulky around the waist and less streamlined. Belt loops are also useful as they allow the elastic to be synched in to ensure your pants stay put while you are out in the elements.
Tactical waterproof pants often feature many neatly organized pockets with hidden or concealed carry pockets. This lets you carry most of your survival tools or tactical gear on your person. Also, you can keep your weapons hidden. Tactical pants can also be used in any harsh environment and can withstand the effects of harsh weather without getting damaged easily.
Waterproof tactical pants need to be strong enough to go the distance without weighing you down. Look for fabrics that are durable enough to withstand the rigors of outdoor activities in cold and wet conditions and that are designed not to rip, tear or bobble when you hit the ground running.

Fabrics that allow your legs to breathe are also a must-have in order to prevent the build-up of sweat that can make you feel too hot or it soon becomes super cold against your skin.

Thicker fabrics generally offer better degrees of protection from both the weather and the environment, while thinner waterproof fabrics may not be as breathable and more suitable for short walks and emergencies.
------Other Considerations
Color.

 

Choose a color that best suits your tactical environment. For example, if you are out hunting, then you should choose camo colors that make you blend in with the environment. You can choose other regular colors if you only need them for regular outdoor activities such as mountaineering.
Price.

 

You must think that good tactical waterproof pants are very expensive, like 511, which cost $100 or more? Shopping for pants priced this much doesn't necessarily mean that you will be compromising on quality. However, You can also find a durable set from a high-end brand that's under $50.
Let's introduce some affordable tactical waterproof pants to you now. Tactical pants can be worn by hunters, fishermen, campers, backpackers, and any outdoorsman.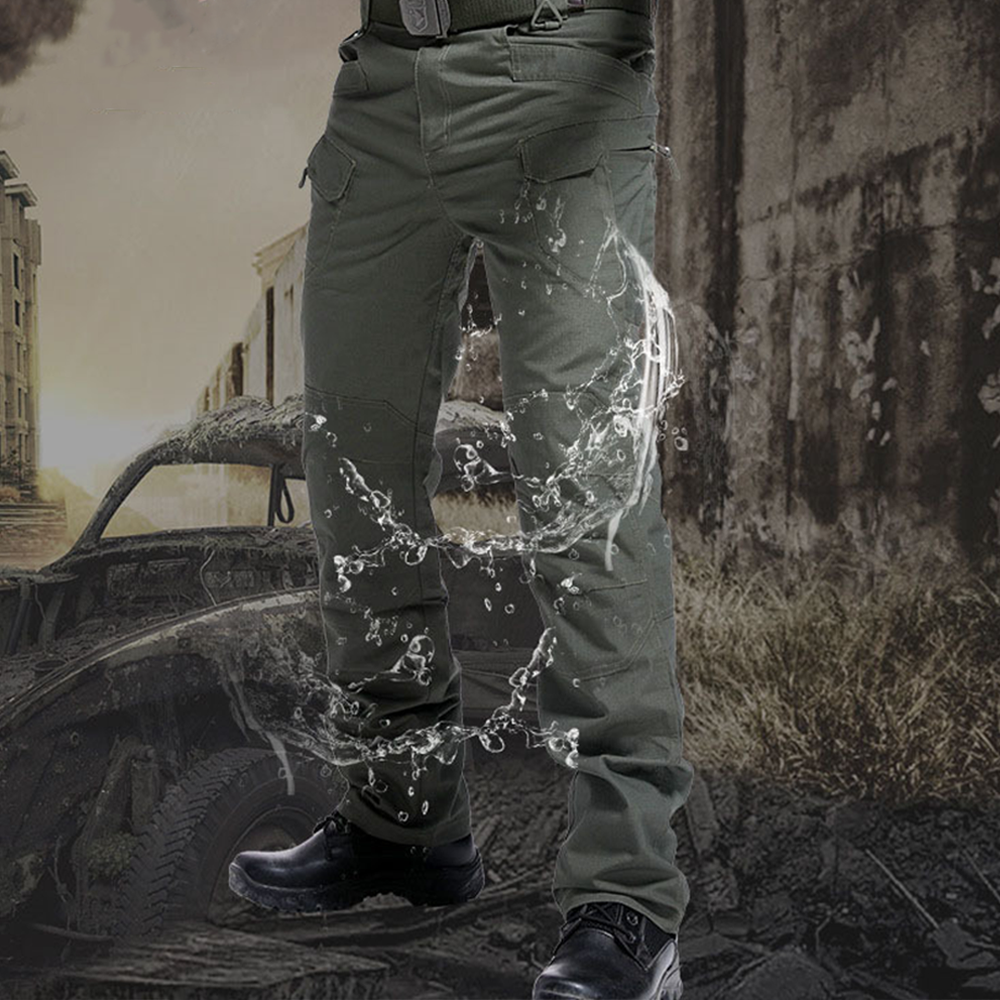 Whether you are on security detail, prepping for an outdoor trek, or spending a day at the gun range, you need a pair of tactical pants that are comfortable, durable and hold all the essentials without sagging or wearing you down. The Archon IX7 Tactical Pants are created for urban tactical men pants with law enforcement, outdoorsman, and rugged adventurers in mind.
These 
Archon IX7 Tactical Pants
 are crafted using polycotton ripstop, a premium fabric blend that provides load-bearing capabilities, durability and comfort far beyond anything else on the market. And with enhanced stitching, a stretchable waistband, you can stay fluid and unhindered when making quick, tactical movements.
Archon IX7 Tactical Pants
9 Versatile, Low-Profile Pockets
Reinforced Knee Stitching
Stretchable Waistband (Extra Comfort)
Fabric: 97% Cotton, 3% Spandex
Multiple Color Selections: Khaki, Army Green, Black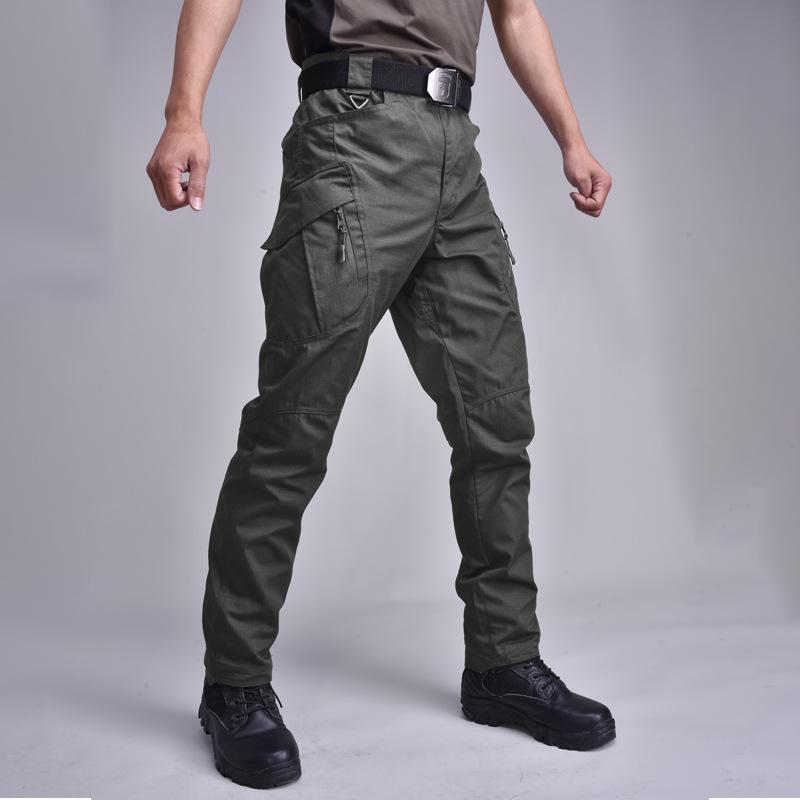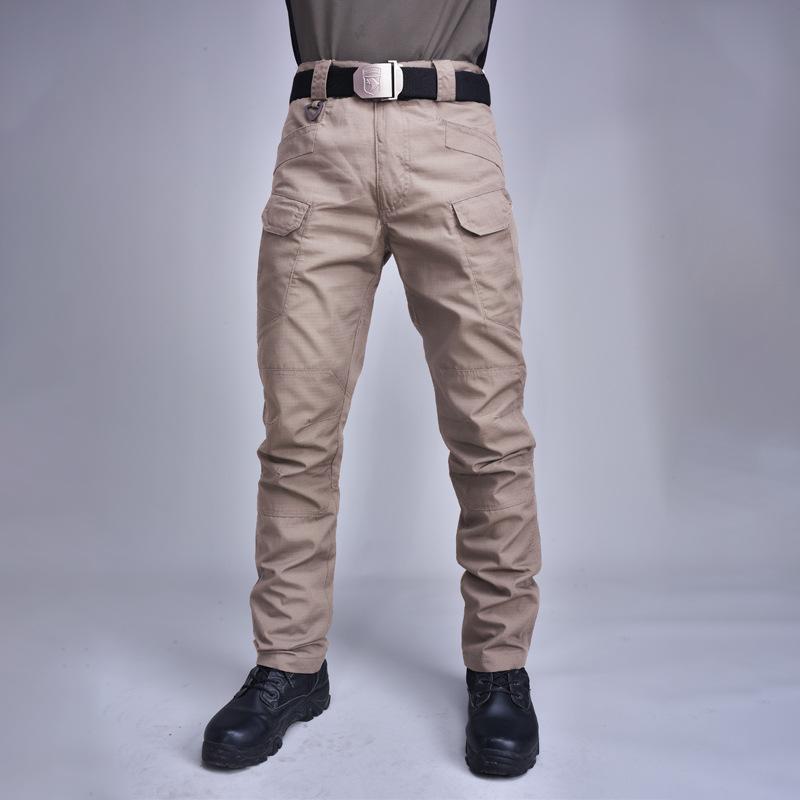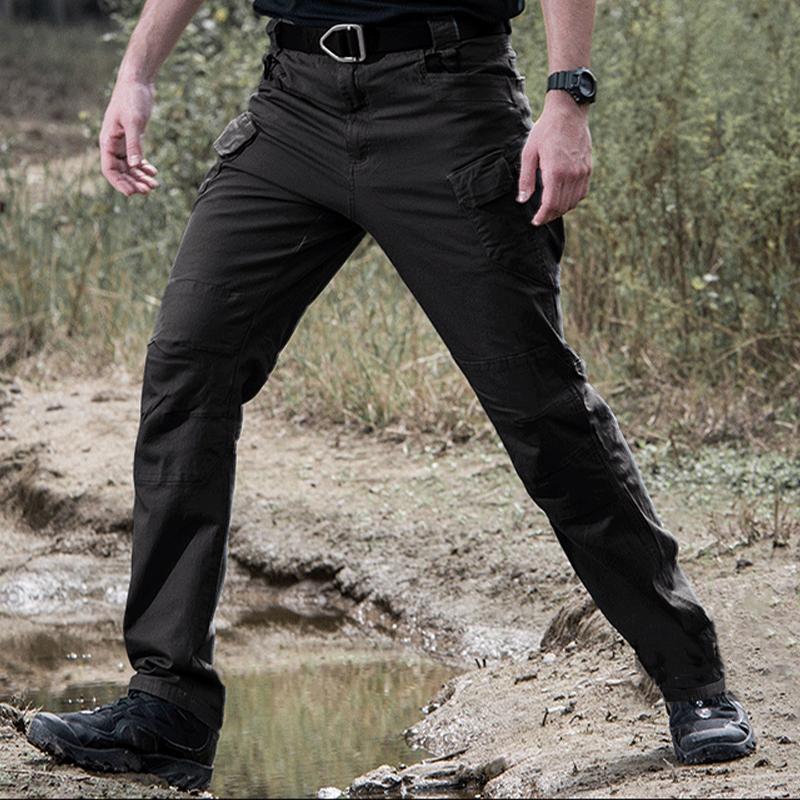 Water Repellent & Breathable Features: The waterproof membrane in the surface layer effectively prevents the water molecules from penetrating, helps improve the breathability and transfer the moisture away quickly.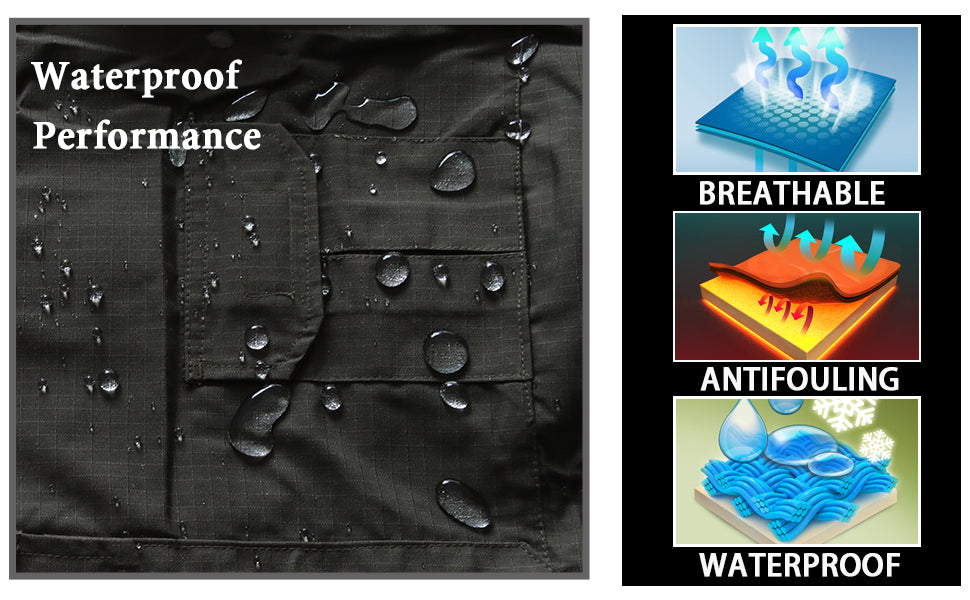 FAQ:
Are these good enough quality for hunting? And do they make a lot of noise?
Yes, these are lightweight but very durable. They would be good for hunting in warm conditions. Add your favorite base for cooler temps. I think they are quieter than denim too.

Do they have knee pad pockets or not?
No, but they are reinforced at the knee.

If you sweat inside, do they breath to release moisture and not stick to your skin like a wind-breaker might?
I've found these pants to be the most comfortable casual pants I've worn in some time. Loose fitting, they do not stick to the skin. I wish there were more colors.

Are they really waterproof?
I'd say water resistant and fast wicking.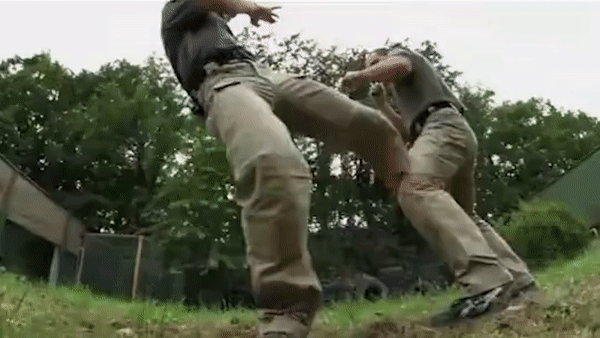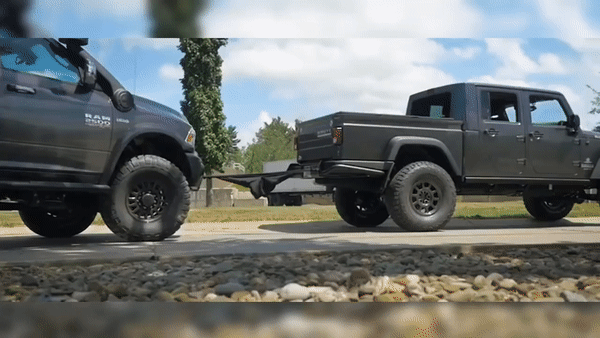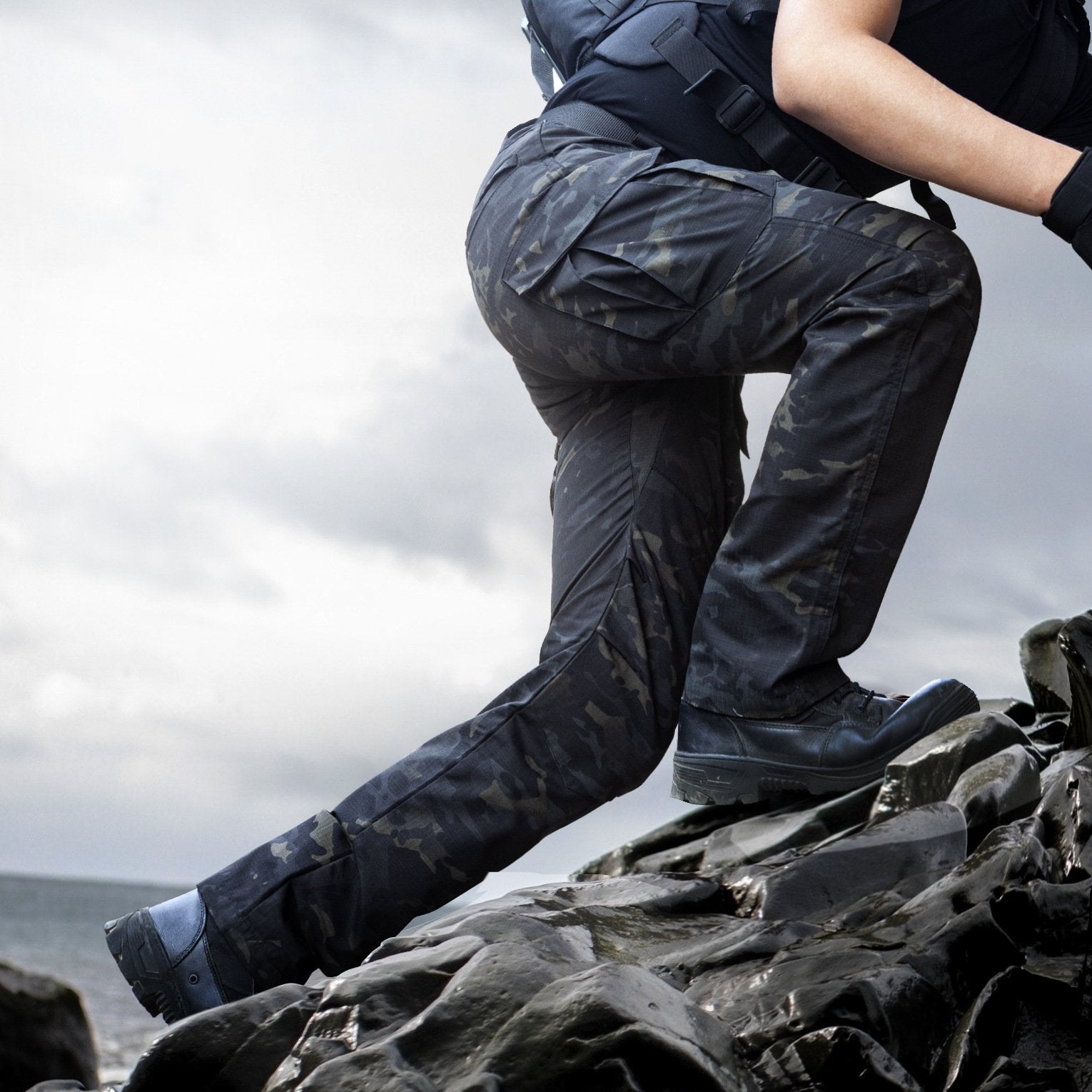 After the waterproof process, these IX8 tactical waterproof pants can block the intrusion of rainwater to a certain extent, and is not afraid of rainwater; the fabric contains moisture-absorbing and drier to effectively absorb moisture, and it can be quickly dried under body temperature and breeze, keeping the pants fresh and dry.
Archon IX8 Outdoor Waterproof Tactical Pants
9 Versatile, Low-Profile Pockets
Reinforced Knee Stitching
Stretchable Waistband (Extra Comfort)
Fabric: 60% Cotton, 34% Polyester, 6%

 

Lycra
Multiple Color Selections: Army Green,  Dark Multicam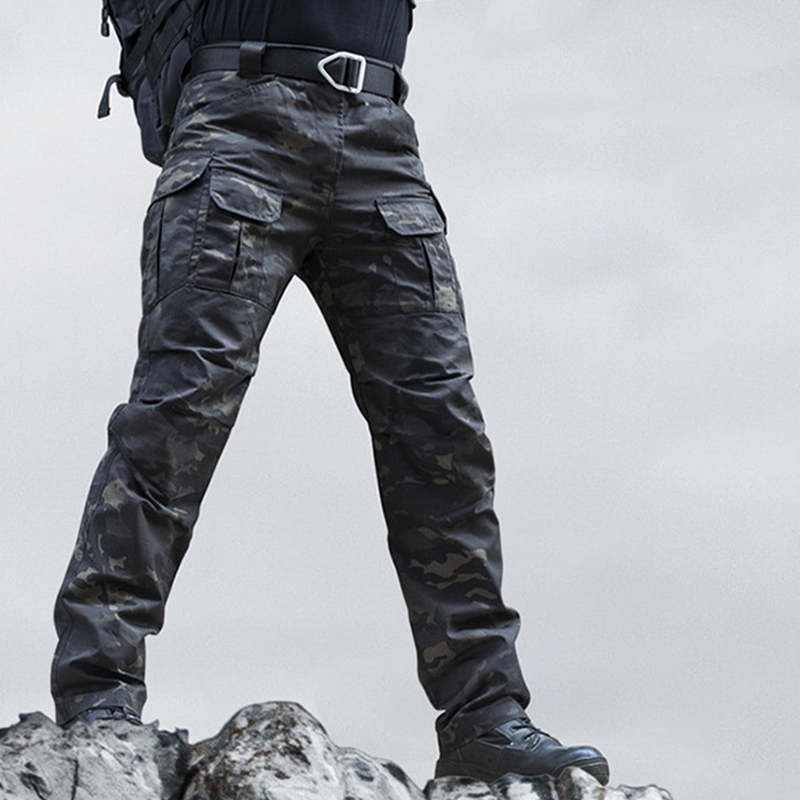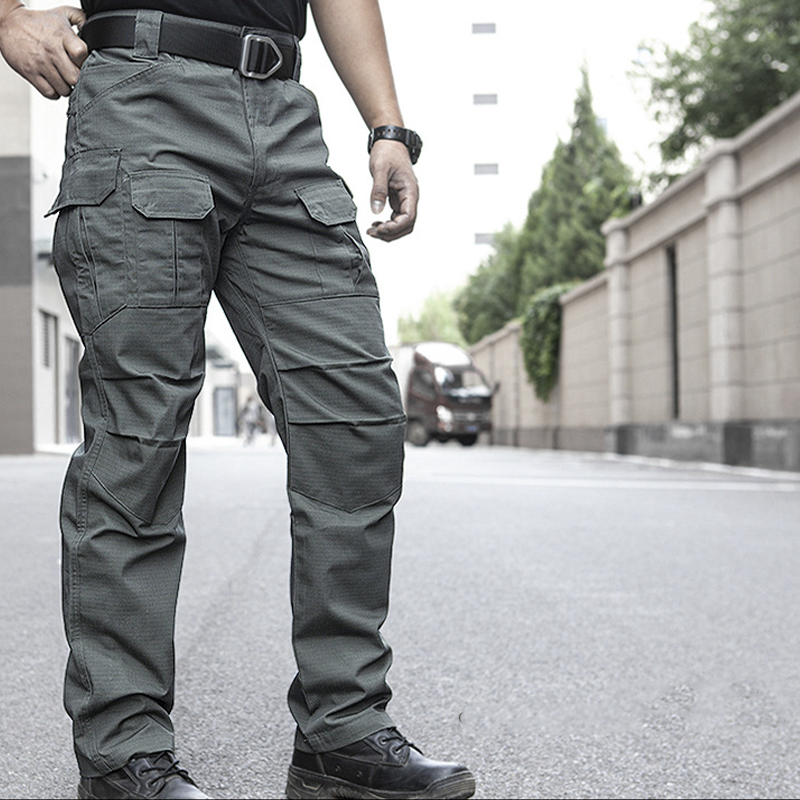 Lotus lear waterproof fabric, 100% waterproof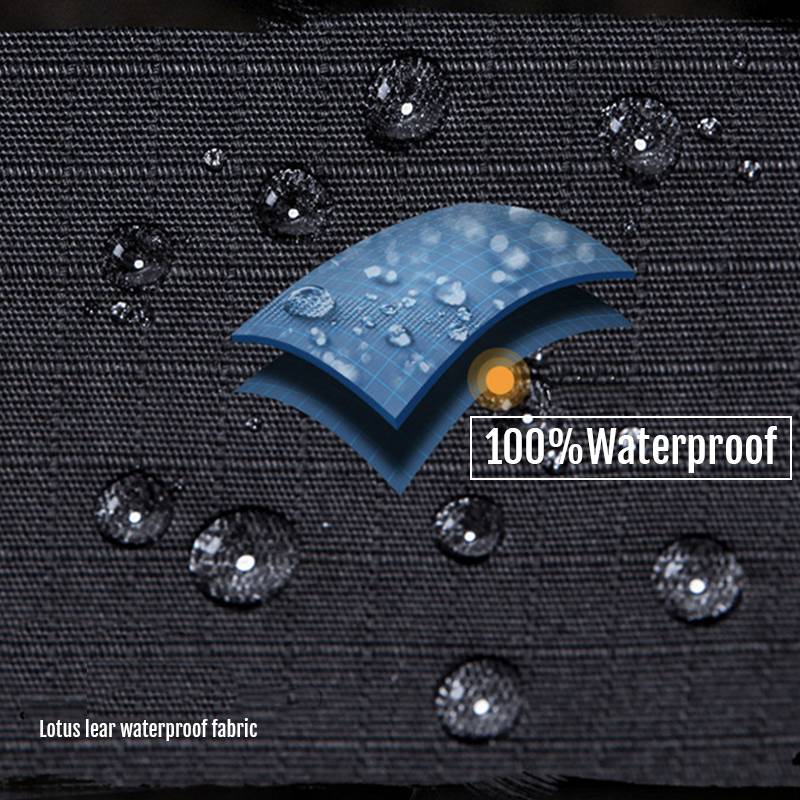 9 Versatile, Low-Profile Pockets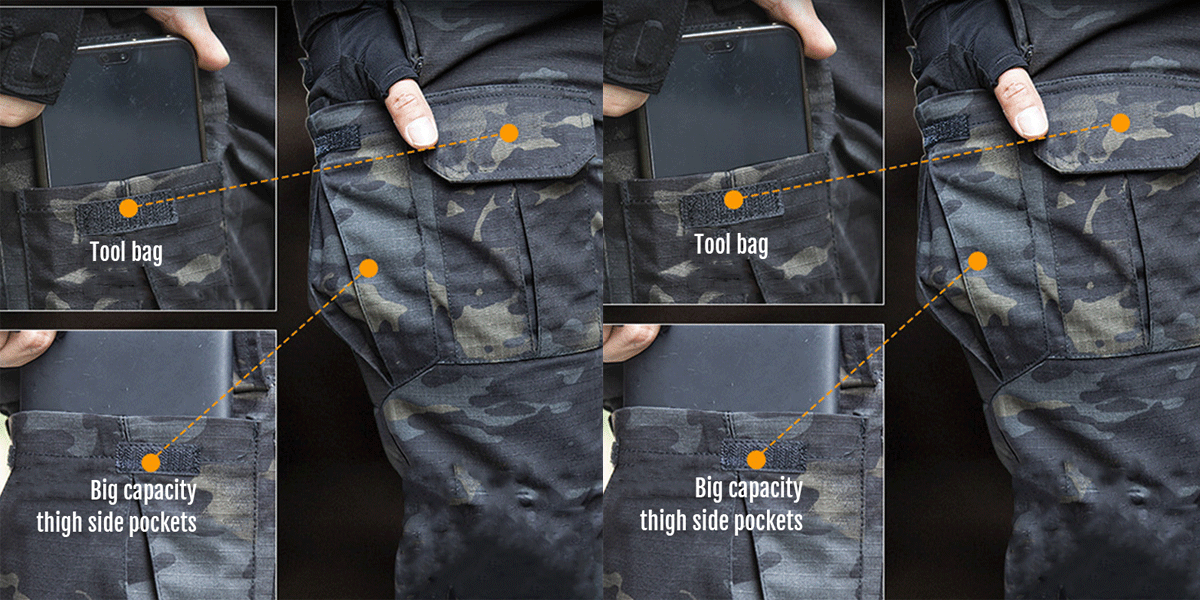 Knee stereo cut, Reinforced Knee Stitching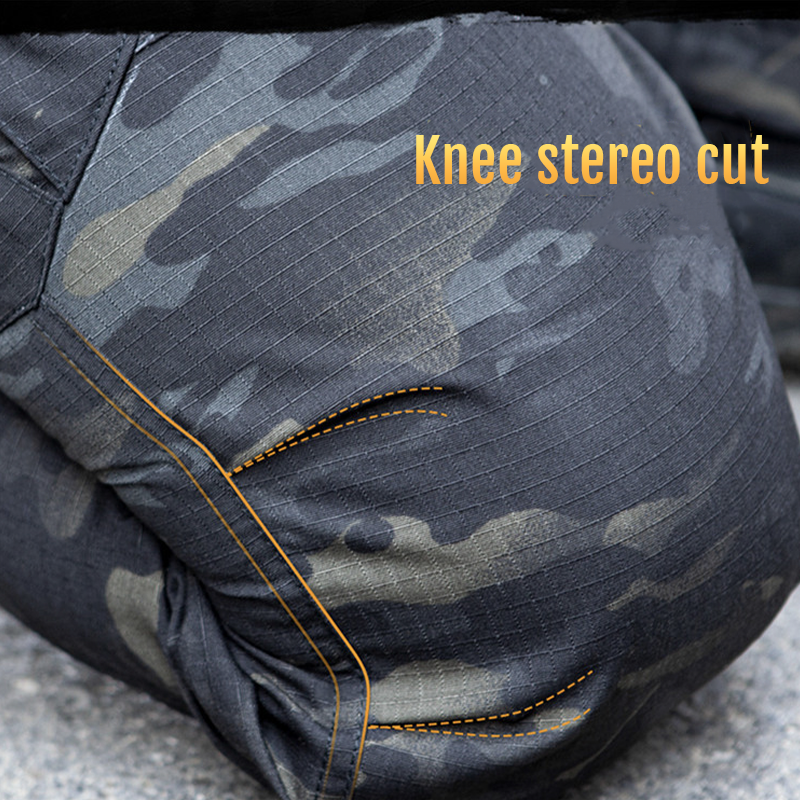 The IX8 tactical waterproof pants suitable for heavy duty operating, outdoor sport, working, hiking, hunting, climbing, cycling, fishing, paintball, shooting, army training and daily casual wear.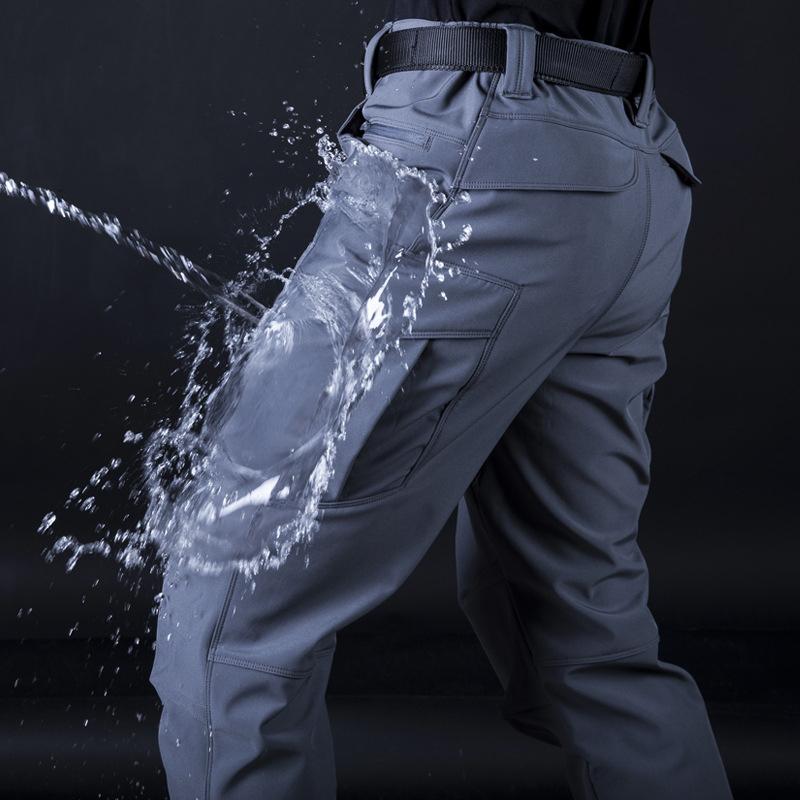 Waterproof and breathable. The Archon Military Cargo Pants Waterproof Tactical Pants for Men keep away from water, stain, and oil. It is lightweight and moisture-wicking materials provide increased comfort during prolonged use during outdoor activities and trekking in different weather conditions. Stretch ripstop fabric with a blend of cotton, polyester, and spandex, triple-stitch reinforcement at major seams and stress points makes these tactical pants for men feature enhanced stitching for outdoor resilience. A fully gusseted crotch allows you to move with ease, bend and stretch unrestricted.
Elastic waistband's scalability gives you up to 2 additional inches for improved comfort and inserted tie at the bottom pant leg is prepared for users' functional demands in a harsh environment like wading, or jungle hiking. Keep tools, clips, ammo, first aid or tactical equipment accessible with 12 load-bearing pockets (including 2 inside kneepad pockets) located across the front, rear, knees, and thighs.
Material: 91% Polyester, 9% Spandex
Lining: 100% Polyester Fiber
Water-resistant and cold-resistant
Rugged durability
Easy movement and comfort
Practical Pockets
Color: Green, Blue Gray, Black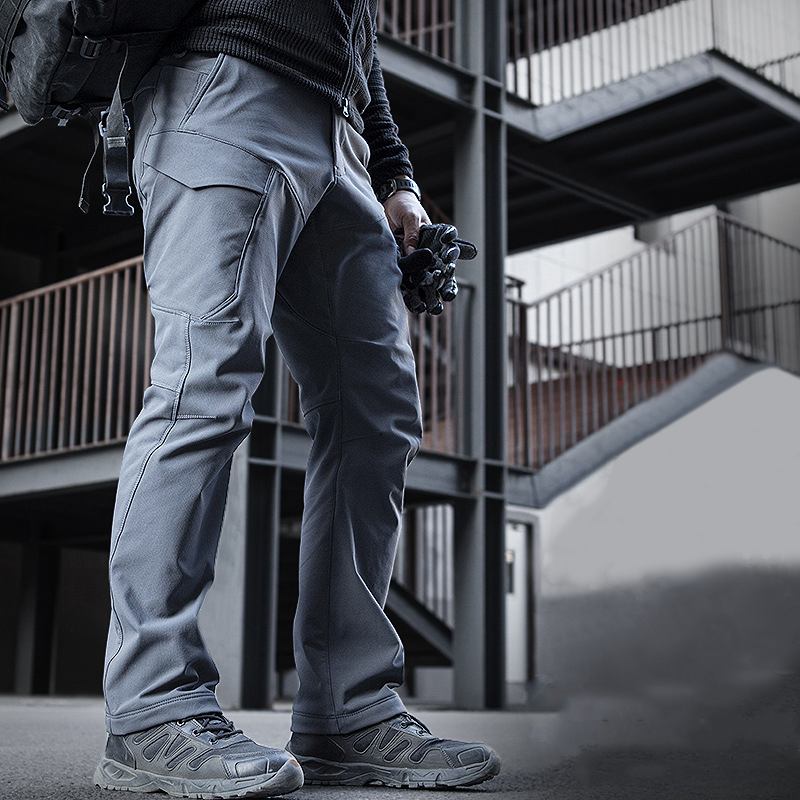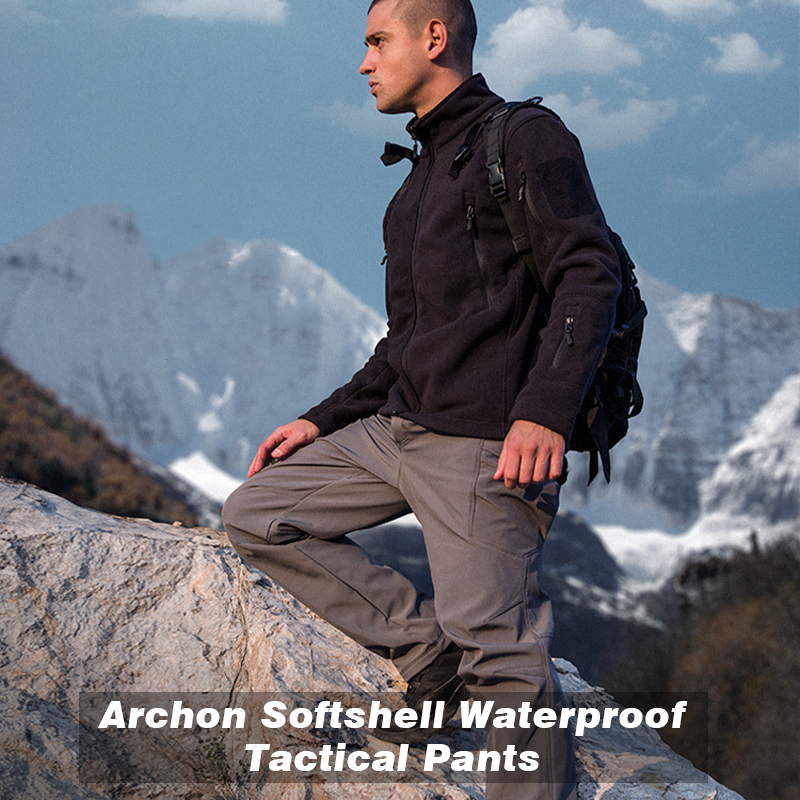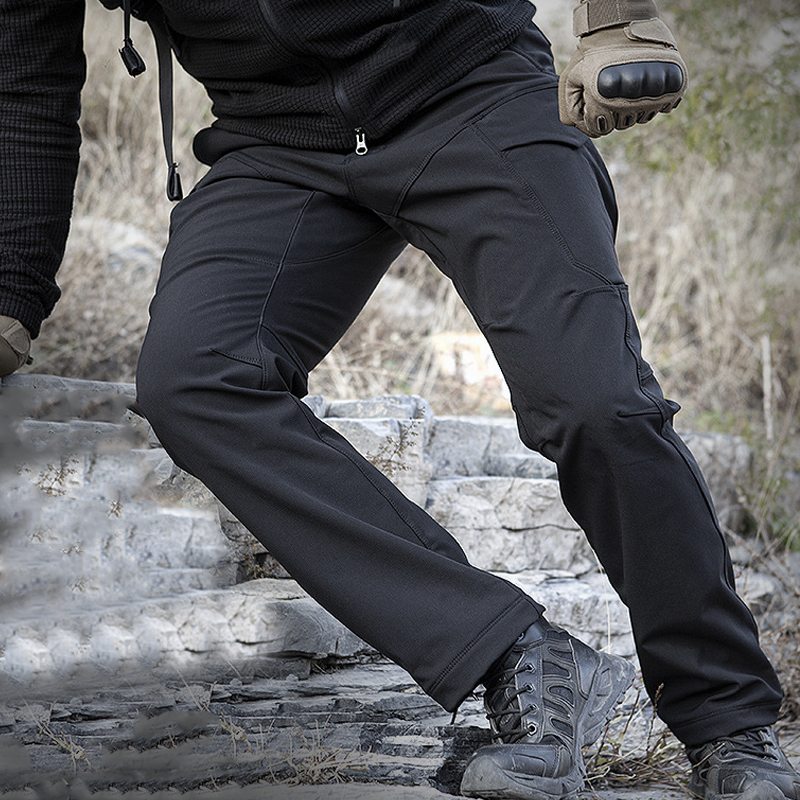 More Details: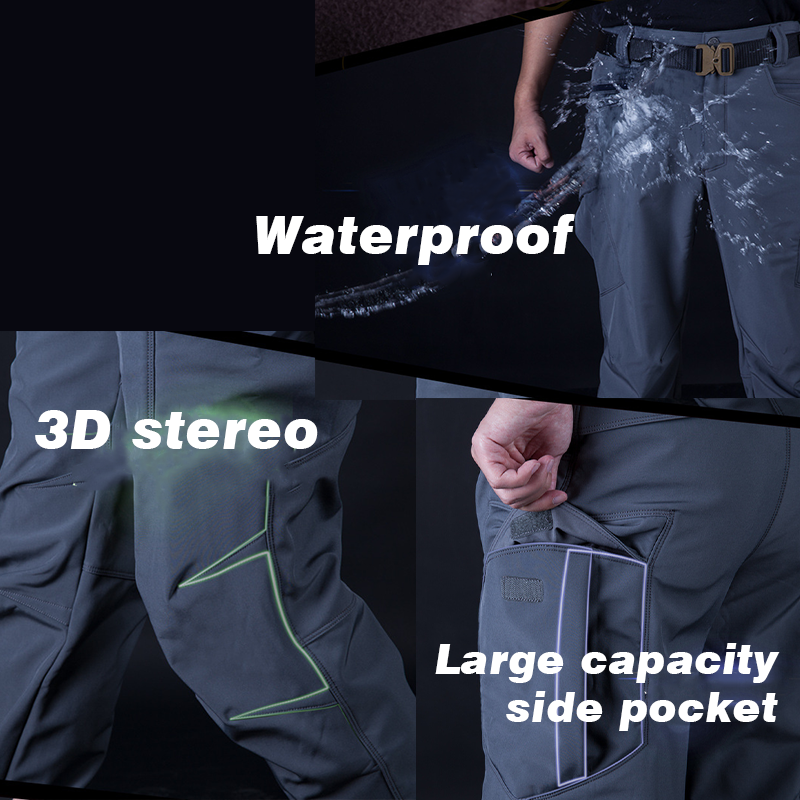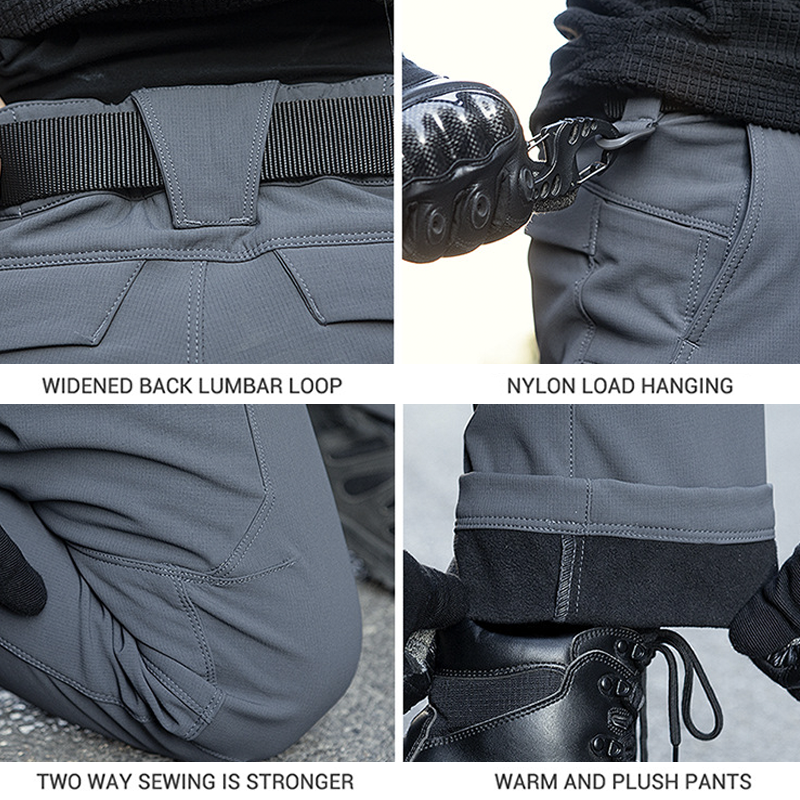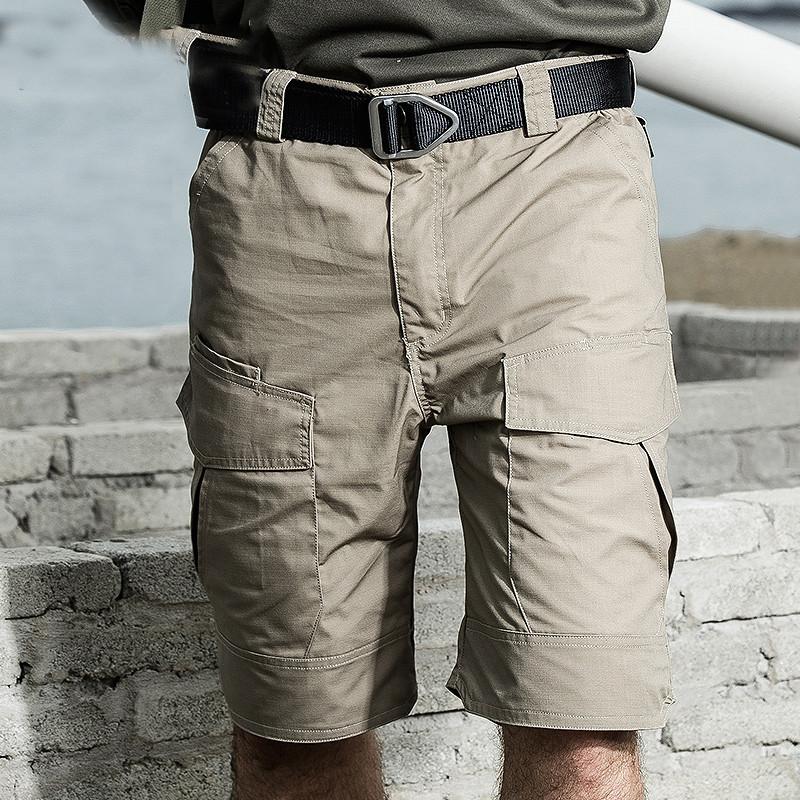 Urban Pro Waterproof Tactical Shorts is the shorts version of the best seller Urban Pro Pants Series. It has pockets where you need them, super lightweight, durability that lasts, the short delivers the performance you need in the field while keeping you cool under stress.
These Waterproof Tactical Shorts are basically EDC pants, and suitable for Summer activities.
Urban Pro Waterproof Tactical Shorts
Reinforced Rip/Water-Resistant Fabric - For durability that will last. 
Breathable Poly/Cotton Blend - Stay comfortable and dry under the toughest conditions.
Designed for extremely hot weather conditions
Material: 2-way elastic Ripstop (65% Cotton, 35% Polyester)
Functionality: Wear-resistant, Waterproof, Breathable.
Multiple Color Selections: Khaki, Army Green, Multicam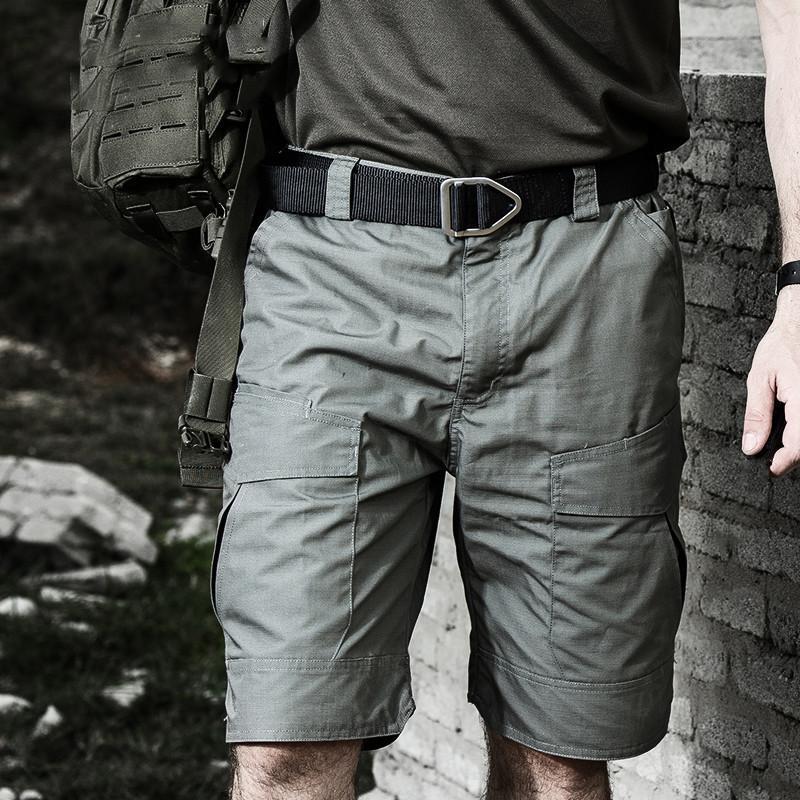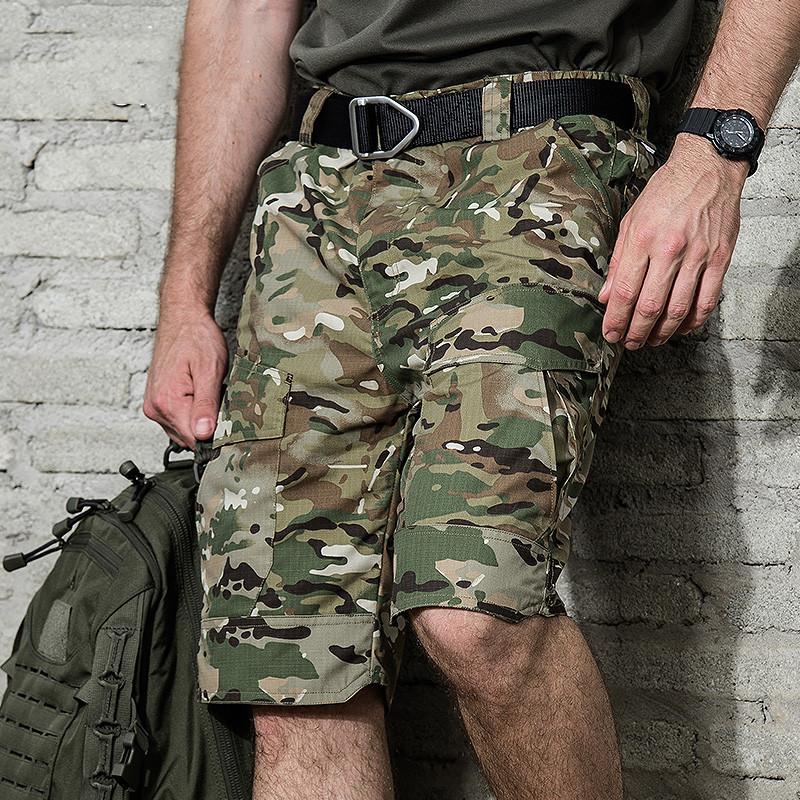 65% Cotton, 35% Polyester, 100% waterproof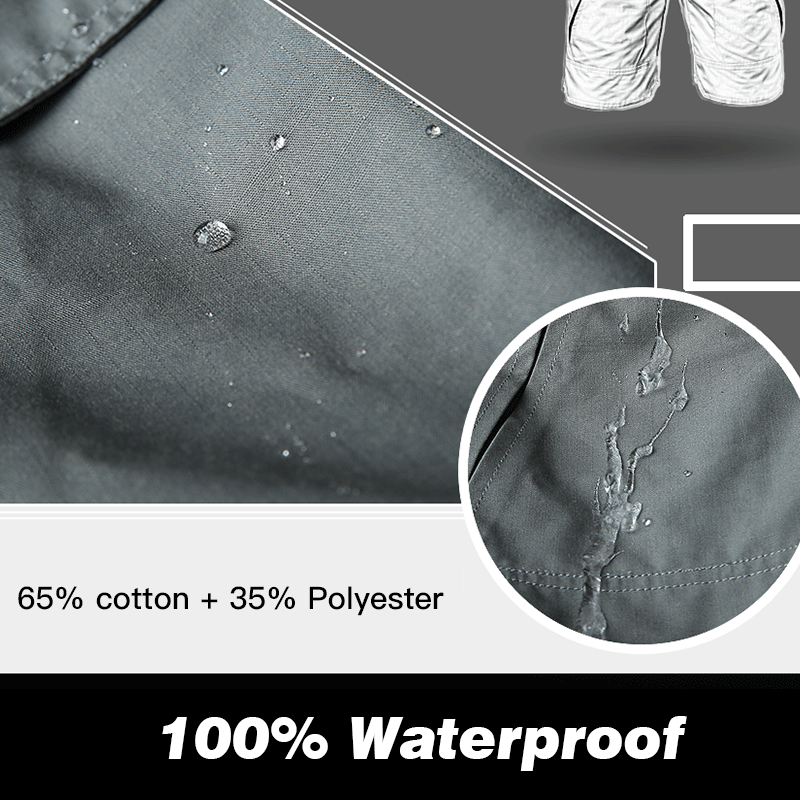 double suture, wide waist loop design, elastic waist design, copper zipper, alloy buttons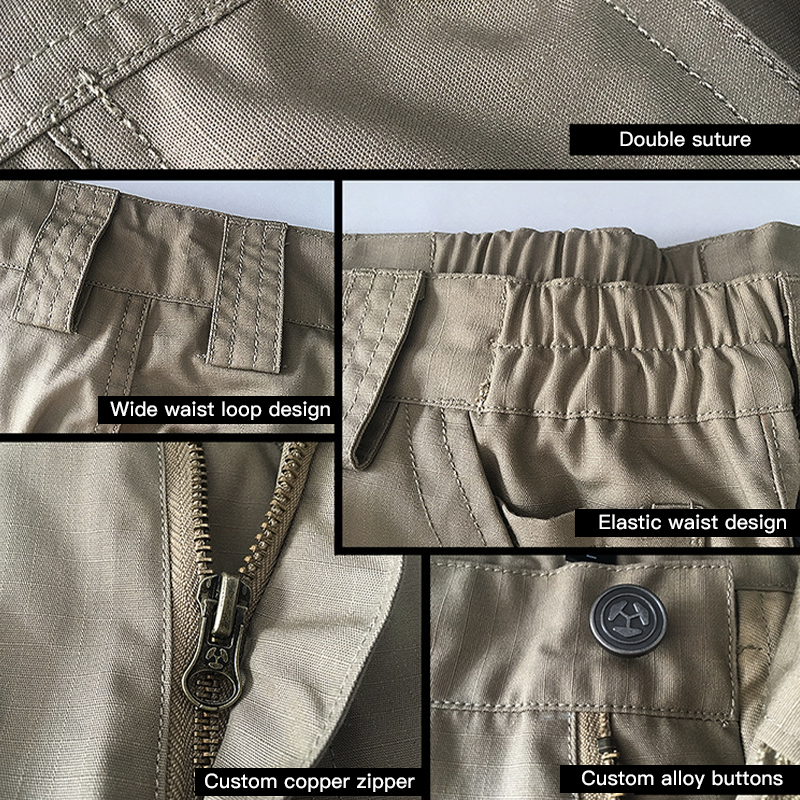 inside duplex small bag design, portable pen function, scalable module, combined large-capacity side pocket, triangle button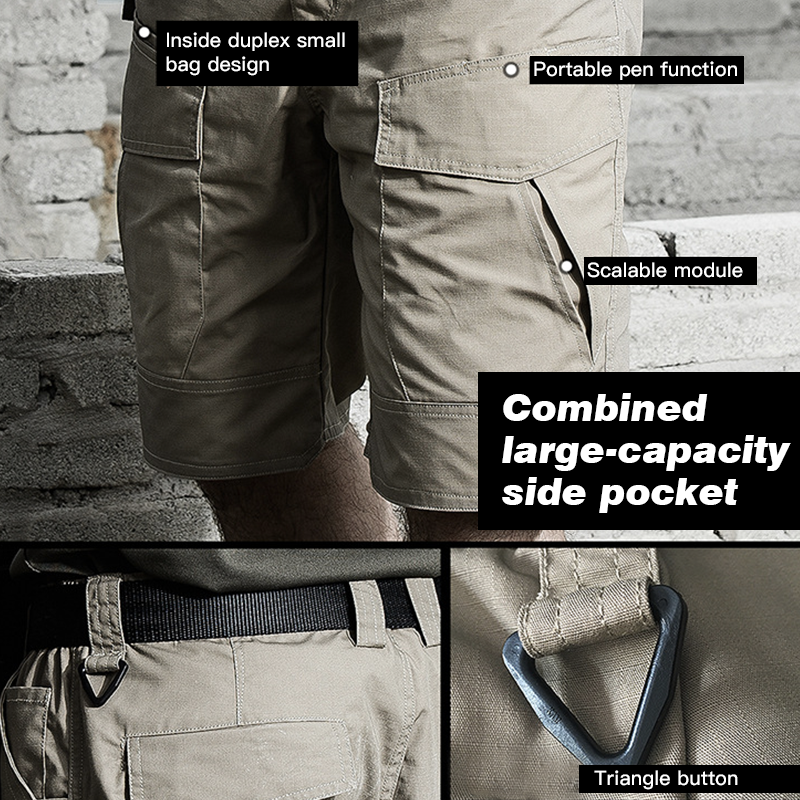 Tips 
Be sure to purchase tactical pants that are tailored for the climate you will be wearing them in. When buying gear for colder climates, consider going a size up so you have enough room to wear a fleece or thermals underneath. 
Also consider purchasing a waterproof

 

tactical vest,

 

military boots,

 

tactical jacket

 

and other

 

tactical gear

 

so you can get full protection whenever you're outdoors. 
If you are shopping online for tactical pants, read the customer reviews so you can know what to expect when you receive your pair. Customer reviews are a great resource on the quality and durability of the product. 
When organizing tools in your pants pockets, try to balance out their weight so your pants don't feel heavy only on one side. If you have large tools, consider incorporating a tactical belt so you can attach them there. 
Not all tactical pants are waterproof. Waterproof pants are treated with a coating that keeps the fabric from absorbing water. When shopping for waterproof pants, look out for tactical pants with Teflon or Durable Water Resistant (DWR) treatments.  If you need to work in harsh conditions with difficult terrain or inclement weather, then tactical waterproof pants are a solid choice, as they are designed to handle such conditions. 
Most situations that call for tactical pants occur in outdoor settings. To keep them in optimal condition for long periods of time, it helps to find tactical pants that prevent damage due to water. Hope this waterproof tactical pants buying guide can help you find the best one.
---