10 Of The Greatest Gifts For Outdoor Lovers
The holiday season can be filled with stress and panic last-minute buying gifts. If you know someone that's an outdoor enthusiast, why not get them something they will use for years to come? After all, there's nothing worse than opening a gift thinking, 'when on earth will I use this?'. This guide will show you the latest and most useful outdoor gifts someone could wish for!
1. Unisex Quick-Drying Water Shoes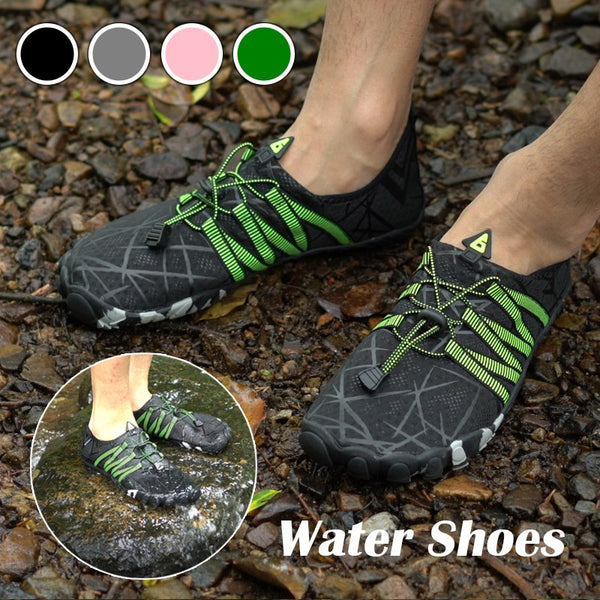 Protecting The Toe : Unique thick toe caps can give provides additional support and cushioning,protecting the toe from injury while hiking or rock climbing.

MINIMALIST BAREFOOT FEEL: Wide toe design makes for barefoot feel but still easy on experience. Zero heel lift and low-profile ultra-grip outsole provides maximum traction for walking or hiking anywhere from the river to the beach
EASY ON: Adjustable shocklace system allows for an easy slip on entry while maintaining a snug fit
Air Permeability And Elasticity:

 

The mesh upper has good air permeability and elasticity.Provide full wrapping for your feet without compromising movement flexibility.Bring you comfortable dressing experience.
Soft and Breathable Indsole:

 

Thick Honeycomb insole of good gas permeability,make water and sweat flows out properly. It can provide slightly cushioning and make every step comfort.
QUICK DRY WITH DRAINAGE:

 

Made with quick dry materials and Integrated Drainage System to allow water and air to move freely making these toe shoes ideal for any water activity
3d Non-slip Treads:

 

The upgraded rubber thick sole provides better protection and can easily handle a variety of difficult road conditions.The 3D non-slip treads increase the friction and track adhesion to prevent slipping. Perfect for water sports or hiking.
IDEAL FOR ANY ACTIVITY:

 

Perfect for beach, swimming, surf, pool, sailing, boating, kayaking, windsurfing, beach volleyball, long airline flight, yoga, performing pilates exercises aerobics etc. The shoe is necessary equipment for vacations.
Links to Buy: D18 Unisex Quick-Drying Water Shoes
2. G3 Rapid Assault Shirt
Tactical World Store collaborated with military and law enforcement personnel to design this high performance shirt. The shirt is famous for its high level moisture wicking ability. Its body fabric is much lighter than the arms, making it highly breathable. Also the forearms are reinforced with material that doesn't allow wear or tearing even in tough settings. This shirt is made to excel in every operational setting.
Links to Buy: G3 Rapid Assault Shirt
3. Urban Pro Stretch Tactical Pants
Whether you are on security detail, prepping for an outdoor trek, or spending a day at the gun range, you need a pair of tactical pants that are comfortable, durable, and hold all the essentials without sagging or wearing you down. The Men's Dark-multicamTactical Pant is created for urban tactical men pants with law enforcement, outdoorsman, and rugged adventurers in mind. Nowadays, tactical pants and shorts have become a must-have in the wardrobe for the younger generation.

These Men's Dark-Multicam Tactical Pants Urban Pro Stretch Pants are crafted using polycotton ripstop, a premium fabric blend that provides load-bearing capabilities, durability, and comfort far beyond anything else on the market. And with enhanced stitching, a stretchable waistband, you can stay fluid and unhindered when making quick, tactical movements.
Links to Buy: Urban Pro Stretch Tactical Pants
4. Delta Tactical Boots
These are quality men's boots that are elegant and long-lasting. Agility and durability that's what Adaptive Tactical Boots Light Duty Brown Military Boots deliver. The tactical athlete needs comfort and speed as well as durability. Its design provides the performance of athletic footwear with nylon mesh lining and cushion insert for all-day comfort.

The Delta Second Generation Special Field Tactical Boots are light, durable, and suitable for all types of adventures. A product of real quality … with you all over the year. It has a round toe cap and an anti-skid sole so you are assured of your safety. This shoe can be used even in rocky areas.

For maximum speed, protection, and comfort in training and in combat, Hyper Velocity Adaptive Tactical Boots provide the perfect fit. Can be used on various occasions, rainy season, fire fighting, rocky areas among others.
Links to Buy: Delta Tactical Boots
5. Blackhawk Elite Outdoor Tactical Assault Pack
This tactical assault pack backpack can be used as 3-day assault pack backpack, range bag, hunting backpack, survival backpack, army backpack, trekking backpack or day pack for daily use.
Links to Buy: Blackhawk Elite Assault Pack
6. Strike Pro Tactical Sunglasses
Strike Pro Tactical Sunglasses offers high performance in any tactical operation. A top-down ventilation system minimizes fogging, and shatterproof Selenite polycarbonate lenses block damaging UV rays. It is strong enough to hold up in the toughest conditions. 
Links to Buy: Strike Pro Tactical Sunglasses
7. Tactical Digital Watch
Urban Pro EX16S Men's Tactical Watch offers everything you need to accompany you to the end of your journey packed into one device. This GPS watch tracks your route, your activity based on your recovery time, and even your steps and burned calory. Whatever your destination, this watch is perfect for guiding and aiding you every step of the way.
Links to Buy: Tactical Digital Watch
8. Softshell Waterproof Tactical Jacket
The classic Urban Pro series. Urban Pro Softshell Waterproof Tactical Jacket is one of the most popular jacket style in our store. 
The outer fabric is breathable, stretchable, waterproof and moves with you and the inside is backed with comfortable fleece to hold in warmth.  It feels and looks bombproof. 
The tactical soft shell has a clean look and can be worn as a full on tactical, uniform or everyday jacket. 
Links to Buy: Softshell Waterproof Tactical Jacket
9. Archon Prime Z908 Tactical Glove
Archon Prime Z908 Tactical Glove provide the dexterity required when handling tools and weapons without sacrificing protection. Hard, molded knuckles and durable ribbed fabric keep hands safe while thoughtfully placed neoprene panels allow for natural movement. 
Links to Buy: Archon Prime Z908 Tactical Glove
10. Outdoor Cap
Upgrade your everyday hat with the Archon Outdoor Tactical Cap. Available in camouflage and multiple colors, it pairs perfectly with both uniforms and plainclothes. Wear it when it's sweltering, this cap won't let the blinding sun hinder your performance. It protects against extreme sun exposure while providing lightweight comfort. 
Links to Buy: Outdoor Cap
There you have it, the top 10 gifts for outdoor lovers and enthusiasts. If you're looking for more tactical outdoor gifts, check here: Tactical World Store
---